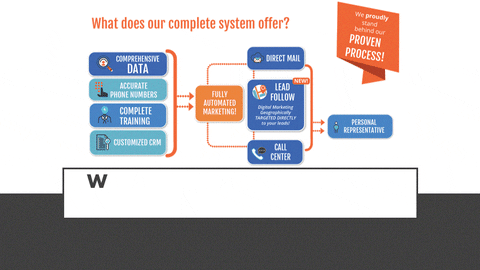 Probate Real Estate Holds So Much Opportunity - We're Here To Help You Find It.
If you found All The Leads because you're interested in probate leads for real estate, well, that's also how we got here!
We created All The Leads in early 2013 after realizing how lucrative probate leads were within each of our own businesses.  We were all operating as loosely-connected cogs and wheels: Tim was printing tons of marketing letters, Tom was handling business contracts, Chad was the creative options guy, and Jim was finding new ways to navigate deals that had urgency.
In the process, we were helping hundreds of families navigate real estate decisions during the biggest strain on the housing market the US had seen in our lifetime.
Without realizing it, we had created a high-yield system for helping families deal with real estate in probate, simply by allowing ourselves to focus on what each of us does best.
What if you - whether you're a real estate agent, broker, investor, and/or wholesaler - could do the same for families in your neighborhood, while at the same time getting a rewarding return on investment for yourself?
We set out to create a system any real estate agent, broker, investor, and/or wholesaler could use to become the probate expert in their market, and you've found exactly that system today.
With All The Leads, you'll provide real and memorable value to the families you help and build a valuable pillar in your business.
It All Starts With Accurate, Reliable Data
All The Leads is the best source for probate leads, training, and high-performance marketing. If you're looking to optimize your time, getting probate lists is just the first step. We've gone the extra mile to bring you lead lists with accurate and comprehensive information you won't find elsewhere (We've done the same research you're doing - Ask us how we know!). EVERY probate filing from the courthouse, address validation, up to 5 phone numbers traced for each lead, emails for the personal representative, and attorney information where applicable.
Even better, while most companies selling lists from the courthouse frame it as a bonus that they ONLY include records that have real property in the probate filing, we instead teach you how to segment your list, automate marketing to those segments, and make sure you find all the opportunities (the ones other companies are happily leaving out, and nobody else is really working). If you want to take it a step further, you can even augment your lead lists with tax assessments, MLS status, equity estimates, mortgage information, and details on how property is deeded.

Easily access and manage all of the above in one place. Easy call dispositioning, campaign set-up and automation, and deal tracking. Easily export your leads for use in dialers and other systems
Opportunity + Action = Success
In any situation, prompt and decisive action often separates those who win from those who watch. When we deliver your leads to you, they are as fresh as they'll ever be. They represent filings within the last 30 days. Often, you will be the first and only person pursuing these opportunities because the properties are not yet even "on the market".
Direct Mail - Done For You - No Excuses
The old adage about the the road to hell being paved with good intentions is never more accurate than when it is applied to all of the tasks that a Real Estate professional faces each month. Taking that all-important first step by securing the probate leads for your county is great, but after receiving them, if you just put them under your pillow, unicorns won't appear and bring you piles of money. 🙂
You must take action to reach out to the Personal Representatives and we've made that step incredibly easy with Mailbox Motivator. This program lets you choose from a variety of letters that we will customize with your logo, letterhead, personal picture or anything else you want to add. Then, your perfect letter is delivered by USPS First Class (hand stamped) mail in a hand-addressed style, greeting card sized (5-3/4" x 8-1/4") envelope to each of the personal representatives on your monthly leads list.
Also, our Technical Success Coach, Marc Boucher, is also ready to talk with you and explain more about the details about using Mailbox Motivator and your Custom Credibility Website. Just click the button below to schedule the best time to chat with him.
Your Professionally Designed Credibility-Creating
Prospect Conversion Website
Building any type of website is not a trivial task. However, building one that is going to actually accomplish what you need it to do - which is set you apart from your competition - is even more difficult. There are many hundreds of options for building a website and many of them can create a nice looking presence for you online. However, dealing with people who'll be evaluating you as a vital resource for handling their probate is a unique challenge.
You don't have to learn anything new because we've taken on perfected the entire process including:
Market analysis
Site layout and design
Site Creation
Professional copywriting
Site hosting setup (including your personal domain name and matching email)
As you can see, we have already done all the heavy lifting for you. Your Probate Credibility Website is specifically designed to accomplish one key objective - turning your website visitors into actual clients. It does this by using a well-designed funnel to drive them to either call you or complete your online contact form. It accomplishes this by making sure they are very comfortably aware that you REALLY ARE AN EXPERT in the probate field and that you WILL be able to help them. We've also built a unique "Attorney Attractor" to act as a landing page for marketing to Attorneys that also helps you build credibility. This site is built from the ground up to work perfectly on auto-pilot for you everyday.
Remember, the basic formula for success with this program is simple ...
Send Letters To The Personal Representatives
Follow-Up With A Phone Call
We are here and we are ready to help!
---
Our Subscribers Always Say It Best ...
The Mailbox Motivator Direct Mail and phone calls are working! I've done one mailing and 2 phone calls so far. I received an inbound call from an attorney with about 400 Acres included in a Trust and she had remembered my letter and calls. Based on the location, this will be valued in excess of $6M and after we chatted, the attorney mentioned that she had another estate that would need my assistance. If you bet that I am NOT juiced and you would LOSE the bet!
Rodger
I contacted an estate administrator last week for an investor client, and she offered to sell the house to him for what was owed on the property. I added on my commission. Then he wanted the stuff in the house and he offered a bit extra for it. He got a great deal without any competition. I'm delighted to have made a sale, and look forward to buying some great deals like this too!
Norm
I completed the 1-On-1 Probate Mastery Training as soon as I signed up. So, when I sent my first letters out, I felt like I had been doing this for a year. Because of what I learned (in Mastery), this is the easiest business I've ever gotten.
Bruce
I wanted to share my quick success story with you. I sent my first 92 probate mailers out last week and I already have three appointments on properties that represent roughly One Million in listing volume. These appointments ALL came from sellers who were responding to the mailer. I am calling the leads this week and can't wait to see what the results of picking up the phone and reaching out to this group will be.
Robbie
We just completed mailing #2. We signed up a "sell me now" listing and bought a property AND CLOSED ALREADY. Also, an attorney who was administrating an estate asked us to make a buy offer. The best thing is, these results are "lazy" opportunities. So far, we've just sent letters. I'm excited!. Chad and Jim have been incredibly helpful. The Mastermind Calls are golden.
John
We mailed out to our first list and started calling 3 days later.  We got 3 listing appointments, listed one and they gave a referral, which we also listed. We also found an investor.  (From) listening to your past calls, we have teamed up with a local probate attorney and have relationships with three Assisted Living facilities, who were thrilled to have someone to make referrals to that understands their residents needs. Thanks again for all the training and coaching!
Bob
Closed 1st Probate Yesterday with an investor I called before even putting on the market!

All done in 20 days, cash sale!

My 2nd listing goes live tomorrow and the 3rd listing next week. Whoop! Whoop!
Michelle
The leads from www.AllTheLeads.Com are VERY good. We have been able to list or wholesale multiple properties since starting the program (only 5 months ago)!
Monique
I received my first set of leads and almost immediately took four new listings after my first mailing. These leads produce every month. Even in a slow month, I got 2 listings. It's just as simple as you said - get leads, mail letters, make calls! My website is perfect and I'm happy. Thanks!
Paul
The customer service here is fantastic! In June or July, our company received an incorrect lead spreadsheet. As soon as we notified Jim and his team, they were on top of it immediately! Our new and corrected lists were sent back to us within a couple days. Two thumbs up from our team!
Donna
After a few months of working with All The Leads, I'm so happy, that I signed up for a 2nd county! It's so easy - great training videos, sample letters, mailing service, integration with Vulcan dialer, and now the CRM ... it's all the tools you need. I got a few calls with my 1st mailing. One was a multi-million dollar luxury waterfront property! What a nice surprise. With each mailing, more calls come in. Two listings already ...
Carlyn
Just sold the first listing I got from my first set of probate leads. Took all of 3 weeks! Thank you, Jim Sullivan & Chad Corbett. Now I should be getting my first testimonial for my Probate Website. My client is very pleased!
Ravi
I was trying to get started and called you with questions. I got your voicemail and decided to dig into your website. What I found was TREMENDOUS! The videos are first rate, the subscriber resources page is well done and the FastTrack videos were outstanding! I spent an evening reading the probate FAQ's and was blown away with the info. You've answered my prayers. I wanted a 1 Stop Shop for the probate business and I hit a home run finding your service! Thanks.
Brad
I just sent out my first set of letters on Tuesday and set my first appointment today - three days later!

I haven't even made the calls yet!!!
Tara
I have been trying to do probate sales for 2 years and in that entire time, I only closed 2 probate sales. After subscribing to receive probate leads from All The Leads and (most importantly) completing the Probate Mastery 1-on-1 Training, I have already been able to close four probate sales in 2015. I highly recommend you make ALL THE LEADS a vital part of your business.
Bill
Last night I received a "Come List Me" call from a lead I'd first called 5 weeks ago. He's in TX and the property is here in NE. When we first spoke, he asked me to email info. I did and followed-up weekly with another call. After a month, he called like we were old friends. I'm inspecting this $300K+, high-demand acreage today with his local brother-in-law, who's having keys made for me. Thanks to the support & encouragement from Chad & Jim, I stuck with the program and it's paying off.
Bud
Thanks for providing me with a VERY solid list of leads each month. I just received my third list and have already booked 3 listings, over $2,000,000 in business. I also have another commitment for $900,000k waiting to get signed and a list of roughly 20 potential sellers in my pipeline that I am communicating with. Bottom line is that the leads are good and the system works. This list is gold for a quality real estate professional who knows how to close listings and service clients.
Seth
We value education more than anything in our business so when we decided to become probate experts the FIRST thing we did was sign up for Chad's Probate Mastery 1-On-1 Training. Unbelievable Value !!
Joy
---
USERS DESCRIBE ALL THE LEADS
Join the All The Leads Mastermind Group on Facebook. Networking, Accountability, Masterminding, and more!
New Uploads Weekly, featuring live Q&A, Tips From The Trainer, Interviews with Industry Experts, and Success Stories to Keep You Motivated
Stay in the Loop With Industry News and Grab Consumer-Facing Content to Share With Your Audience, curated by All The Leads.
Frequently Asked Questions (FAQs)
What is probate, and what's the opportunity in probate?
Probate represents the single largest sustainable opportunity in real estate. Many professionals are so set in their traditional prospecting that they completely miss the biggest opportunity in
their market.  Nearly 2 million families per year must probate an estate. 80% of estates have real estate that needs to be liquidated and 67% of the real estate is free and clear.  These are motivated sellers who NEED to sell and NEED a professional, but usually settle for whomever they reach out to first.
There are so many opportunities in helping people handle property/properties they didn't expect to inherit.  Bookmark this crash course and dive in:
Can I do this without cold-calling?
Yes, and the "Come-List-Me!" call has become a recurring theme in our subscribers' success stories.
In any case, we will teach you the sales language and best practice tips for cold-calling, whether you're an agent, investor, wholesaler, or ISA.  To start, book mark our Role Play Training Playlist
Do I need to be a licensed real estate agent?
Our subscribers include real estate agents, investors, and wholesalers.  Families dealing with probate have a wide variety of needs and motivations, and we'll teach you how to stop boxing yourself in with a title and put more deals together whether you're coming from the brokerage or investment side.
David Pannell and Chad Corbett discuss How to Walk Out of Face-To-Face Appointments With PAPERWORK SIGNED – Whether You're An Agent, Investor, or Wholesaler:
I really want to get into probate, but what if I don't have a team already?
If you knew you had a $50,000 commission waiting, how long would it take you to go find a clean out crew and a photographer?  Never let not having a team in place get in your way!
Chad Corbett paves a roadmap for Building A Team (timestamp 34:37) on Mastermind Call #271. Check it out here:
See more: What to do when a client asks "How much does this cost?"
Offering Sellers Vertically-Integrated Solutions
I'm new to real estate in general; does my experience matter?
Probate is great for real estate rookies, as well as seasoned professionals who just moved into a brand new market and don't have brand recognition yet.
Probate for newcomers and why it can be a lucrative foray into real estate (timestamp 4:47)
Can I just get the leads?
Yes! You will have access to the CRM, accountability coaching, and other benefits included with a probate leads subscription either way.
It's also possible to grab leads and have someone else on your team, or a vendor partner, grab the marketing pieces to do some co-marketing.
Do you limit subscribers in each county?
Yes, and for counties that are filled we follow a strict waitlist. Because of this, you should check the availability of the county/counties you are interested in now, even if you don't plan to start up just yet. [contact-form to='darci@alltheleads.com' subject='New Probate Leads Inquiry from Sales Team Landing Page'][contact-field label='Name' type='name' required='1'/][contact-field label='Email' type='email' required='1'/][contact-field label='Phone' type='text' required='1'/][contact-field label='County/Counties You Are Interested In?' type='textarea' required='1'/][/contact-form]
Is a Certified Probate Expert (CPE) Designation Worth it?
Probate Mastery is three days of highly-specialized training on probate prospecting and sales language,  in-person appointments, transaction engineering, building a referral network, and streamlining your business operations. You will learn how to find deals, get appointments, present options, close deals, and turn those deals into new opportunities.
The designation itself is an important piece of credibility to prospects, and helps set you apart from other agents and investors.
We even have alumni that have taken the course multiple times (at no additional charge).  Read their feedback and learn more about Probate Mastery.
How long does probate take, and when can I expect to close deals?
For most states the probate process takes 6-12 months. However, once the personal representative has the letters of testamentary (early in the process), the property can be sold (some states require court approval, but the real property can be closed long before the completion of probate).
We offer extensive training on streamlining probate both in terms of your prospecting efforts and business operations, and your clients' time to closing.
I already have a CRM. Can I work my leads there?
Yes. We've streamlined our CRM specifically for probate prospecting, with easy export options for anyone who'd like to take their lead lists elsewhere.  If you use Vulcan7, we can also push your leads into your Vulcan7 account automatically.
What is PROBATE PLUS?
Probate Plus+ is an enhancement for our Probate System Subscribers. For $2 per probate lead we will augment the public data to identify estates with real property anywhere in the US and give you a comprehensive report including: property value, estimated equity, tax information, MLS history (if applicable), past sale information, mortgage information, lien information, and more.
Do you have anyone seeing success with your program?
Our success stories are incredibly diverse.  How do you see yourself? Let us know and we can most likely point you to someone who started where you are right now.
You can also check out reviews, hear weekly success stories on our Live Mastermind calls, and watch some of our probate Case Studies.
Do you offer advanced coaching?
You can find the details of our current offerings here: https://alltheleads.com/professional-real-estate-coaching/
Is a credibility website important?
A credibility website is a helpful and cost-effective marketing piece that stands alone from your primary real estate website.  It's an opportunity to give prospects something to reference when they want to look up who you are and what makes you the right person to turn to for probate needs.
We'll help you choose a name that's easy to grow into and -- more importantly -- easy for prospects to remember and look up.   We frequently discuss best practice tips for leveraging a probate credibility website in your marketing and your conversations with prospects so you can get the most out of it.
And best of all, you don't need to be a WordPress or copywriting expert. That's all taken care of for you 🙂
Do your letters work?
If you search our website for "come list me call," there are 35 pages of results of subscriber success stories from Mailbox Motivator program.  I'd say it works!
We are also happy to hear your feedback and insights, and make it easy for you to customize our letters right from the CRM or through our Mailbox Motivator team.
I'm working with a smaller budget. Should I use letters or a website to start?
If you want to try out a website or a mailbox motivator campaign but aren't sure which one to go for, that's what we're here for. Schedule a call and we can run through some ROI calculations together to optimize your marketing.
My whole team is interested. Can we all have access to the leads?
Yep! Our support team will work with you to make sure the right people are the point of contact for their relative roles. We encourage you to invite any team members and related vendor partners to our Mastermind Group and Weekly Trainings as well!